XML Press has published MadCap Flare for Programmers: A guide to getting the most from Flare by Thomas Tregner and David Owens.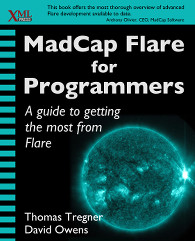 I'm pretty excited about this. We cover the core subjects of this blog, often in greater detail. Some of the examples will look familiar but with more background information and deeper explanations. Other examples are completely new. You can read the list of chapters at the book's page at XML Press.
If you want a narrative to help you begin scripting, automating, or programming in the context of MadCap Flare, MadCap Flare for Programmers is your starting point.
Highlights
Flare projects, the key items in Flare projects, and the underlying markup
Generating content with code
JavaScript with Flare web outputs.
Flare plugins including a step-by-step Hello World walkthrough and more advanced examples